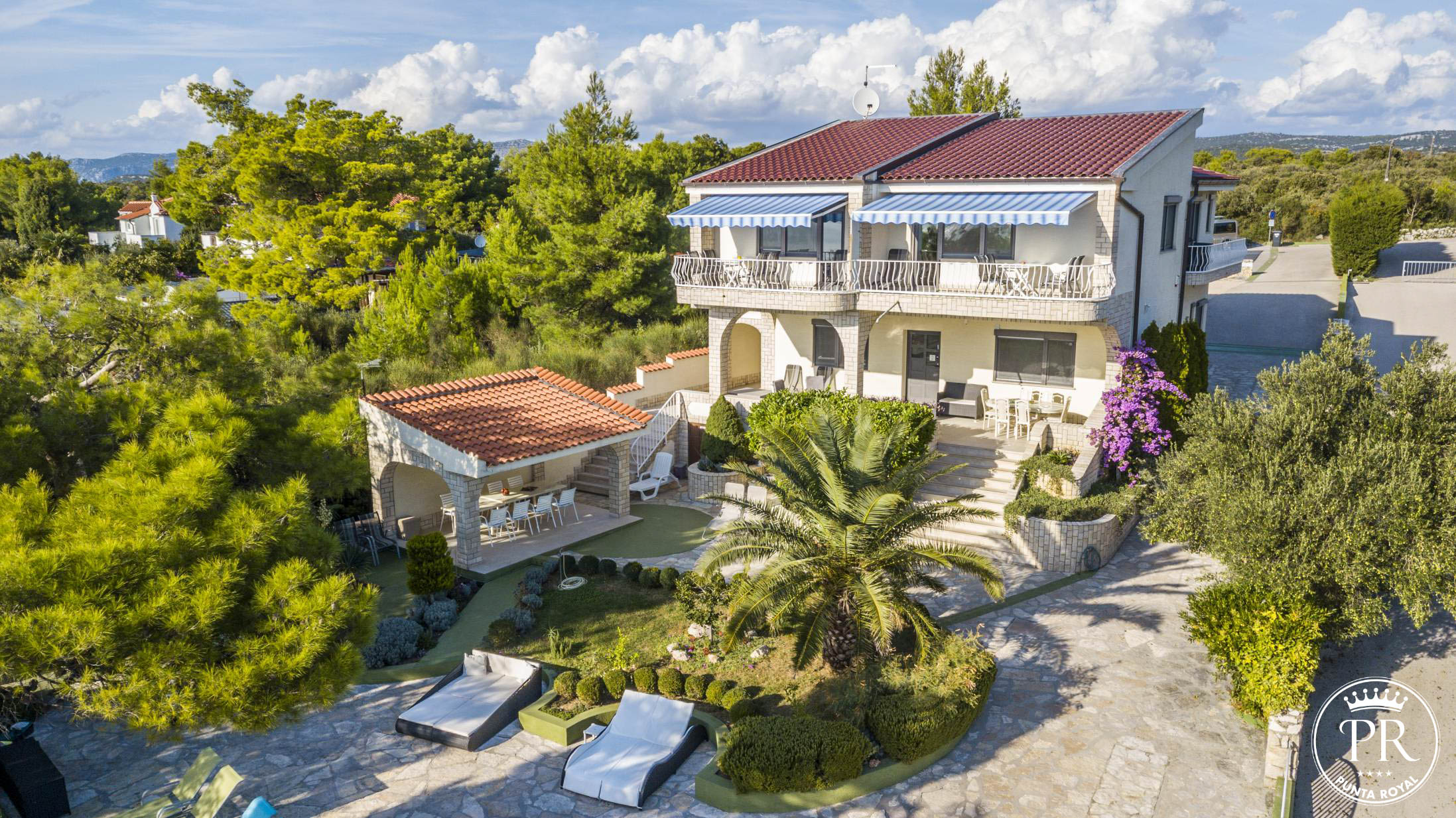 Villa Punta Royal is located on seafront in peacefull bay, has a private pebble beach, and is perfect for little kids, water on beach is shallow and it gets deeper as you go further in the sea, in front of Villa is mediterranean garden perfect for playing with kids because they are always on your viewspot. There is no roads and traffic near Villa, and everything is on one place, no worries with your stuff to go on the beach, then pack your stuff to go to apartment or room, because beach is 15 m from your apartment or room, just in front of the Villa. WiFi is free of charge, all Villa and beach are covered with WiFi signal.
Brochure Villa Punta Royal 2023.
DOWNLOAD Parking is right next to Villa and is free of charge for all our guests. Sunbeds in mediterranean garden and on the beach are aswell free of charge for all our guests. Apartments are full equiped for family stay.
Royal King apartment and Royal Queen apartment are the same size and they are in front side of the Villa, and they have seaview. Royal Prince apartment is a little bigger and has two balconys and two bathrooms and is positioned on the side of the Villa, and has seaview.
Royal Grand apartment is the biggest apartment located at the front of the Villa on the ground floor and has a large terrace with sea view and direct access to the garden and beach.
In Villa Punta Royal is also a room for two person with bathroom, called Royal Princess room.
Thanks to our position in the center of the Adriatic Sea coast, all popular local amenities are close to us: National park Kornati is 20 km, National park Waterfalls of Krka is 25 km, National reservat Vransko lake is 5 km, Sibenik is 22 km and Zadar is 45 km away from us.
Professionals work at our place. There's someone at your disposal 24/7.
You can use our shuttle service to get to attractions and activities or from/to the airport or wherever you want! Our shuttle can take up to 8 persons plus the driver.
directly by the sea
private pebble beach
sea view
mediterranean garden
very quiet, no traffic
free parking by the villa
free WiFi covering villa and the beach
family/child/pets friendly
perfect for small children
berth/mooring for a boat
dedicated personnel
free sun umbrellas at the beach
free sunbeds in the garden and at the beach
position in the center of the Adriatic Sea coast